Pay only for what you need. Plain and simple!
Biggest cloud advantages 
Tailor-made cloud solutions to help your business grow.
Save money
Move your servers to cloud and reduce infrastructure spendings up to 50% 
Scale at your pace
Adjust all the parameters (CPU, storage, number of API requests etc.) to your needs. Change them instantly as you grow.
Feel protected
Rest assured, your data is safe and can be easily recovered.
Deploy in seconds
Cloud makes the deployment fast and stable. 
Estimate your cloud project quickly!
Fill out the short form. We will contact you shortly to discuss it.
What is Cloud-based Development?
Cloud-based development means that you don't need to build and maintain your own physical infrastructure (servers or data centers) or install development tools to create software. You can use the required technology services and computing power delivered by third-party cloud vendors.
In other words, cloud-based software and cloud-based applications are apps that run in a cloud environment and are able to interact with web browsers and APIs.
Cloud-based software provides the functionality of a native application, and its servers are usually located in a remote data center operated by a third-party cloud services infrastructure provider.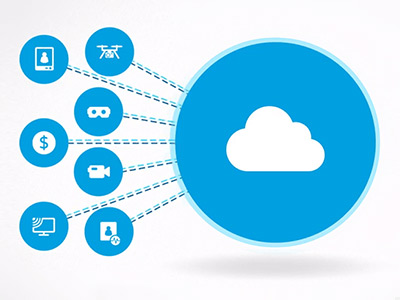 Main Cloud Computing Features 
Resource pooling is one of the essential features of cloud computing. Resource pooling means that a cloud service provider can share resources among multiple clients, each providing a different set of services according to their needs. It is a multi-client strategy that can be applied to data storage, processing and bandwidth-delivered services. The administration process of allocating resources in real-time does not conflict with the client's experience.
On-Demand Self-Service is one of the most important features of cloud computing. This enables the client to continuously monitor server uptime, capabilities and allocated network storage. This is a fundamental feature of cloud computing, and a customer can also control the computing capabilities according to their needs.
Large Network Access – ubiquity. The client can access cloud data or transfer data to the cloud from any location with a device and internet connection. These capabilities are available everywhere in the organization and are achieved with the help of internet. Cloud providers deliver that large network access by monitoring and guaranteeing measurements that reflect how clients access cloud resources and data: latency, access times, data throughput, and more.
Reporting Services is one of the many cloud features that make it the best choice for organizations. The measurement and reporting service is helpful for both cloud providers and their customers. This enables both the provider and the customer to monitor and report which services have been used and for what purposes. It helps in monitoring billing and ensuring optimum utilization of resources.
Scalability And Rapid Elasticity Are one of the critical features and advantages of cloud computing. This cloud feature enables cost-effective handling of workloads that require a large number of servers but only for a short period. Many customers have workloads that can be run very cost-effectively due to the rapid scalability of cloud computing.
Cloud – Based Development Benefits 
Cost efficiency. The costs associated with the cloud are lower than for on-premises software; the range of payment options, such as pay-as-you-go, one-time payment, and others, allows users to significantly minimize software maintenance costs. In addition, this approach removes the need to invest in on-premises hardware and eliminates licensing fees.
Expanded flexibility. The cloud offers easy and rapid scaling up and down of system capacities.
Swift deployment. Deployment of a cloud-based system is time-efficient, as it can take just a few minutes.
Unlimited storage capacity. Cloud-based technologies do not limit a company's storage space or force it to extend it.
Disaster recovery. Cloud backup and recovery processes are much more efficient in comparison to the same processes on a physical device.
Automated software integration and updates. Cloud technology offers automated software integration and updating and allows to skip further optional configuration and customization if needed.
Simplified team collaboration. You can unify resources in the cloud and let team members access information from wherever they are. This simplifies the team's collaboration and processes.
picture to be changed. 
Cloud in numbers
90 %
Of Fortune 100 companies are using 
AWS cloud solutions
$ 947.3 bln
Cloud market size expected
by 2026 (ReportLinker)
245
Number of countries
where AWS is being used
Cloud Service Models
Cloud computing is helping organizations to focus on what's important and forget about all the recurrent work like maintenance, security updates, storage planning etc.
With the growth of cloud solutions, came various models designed to meet the expectations of various user groups. You can take a look at listed types of cloud services, but don't worry, our experienced consultants are here to help pick the one that suits you best. That's what we do for 10+ years already! 
Software as a Service (SaaS)
Function as a Service (FaaS)
Platform as a Service (PaaS)
Mobile "backend" as a Service (MBaaS)
Infrastructure as a Service (IaaS)
Serverless computing
Cloud Infrastructure & Hosting Services
SolDevelo helps you pick the proper cloud deployment model, service level, and management options. We also make sure it runs smoothly throughout the entire project timeline. 
Our certified cloud consultants are at your service to advise and deliver the cloud ecosystem that will be tailored to your specific needs. Evaluations of costs, performance and reliability of workloads will help you make your business decision easy.    
Official AWS consulting partner with 10+ years of experience
Automatic scanning for security risks
Separate DevOps department
Continuous integration and deployment
Migrations to cloud
 Scalable infrastructure
Industries that can benefit greatly from moving to cloud
Healthcare
Logistics
Fintech
Education
Insurance
Retail
Anything we can help you with?
Fill out our form. We will contact you shortly to discuss it.
Is it hard to switch your project to cloud?
Cloud native computing, when properly implemented, can save your organization a lot of money, work and time. However, when it comes to managing change in various departments and replacing old habits, all that glitters is not always gold. Take a look on what challenges you can expect down the road and, most importantly, how to prepare for them.
1. Cultural adjustments
If you would like to move from old-fashioned on premise hosting to cloud, remember you would need your organizational culture to adjust as well. Adding DevOps workflow would probably require changes in your teams' composition. These are not only on paper structure corrections, but rather deep cultural shifts. Keep this in mind and right from the beginning emphasize the importance of moving to cloud. Later as it goes it will become much easier when developers find out how DevOps approach is speeding up the deployment.
2. Legacy versions
Companies thinking about moving to cloud usually maintain outdated versions of applications or systems. The reason behind it is that legacy might be still essential to some parts of the business. To ensure the swift continuity of business operations it is crucial to consult the ecosystem with experienced cloud engineers to decide whether legacy software should be migrated to cloud or kept on premise till the end of their existence.
3. Partial cloud usage
Big number of organizations do not have deliberate strategy about how to thoroughly adopt to cloud solutions. Quite often it is more of an individual teams effort, rather than holistic game plan. As a result cloud adoption gets only partial – some project are using the new DevOps approach and the rest is staying behind. Although, it does not look like a very serious risk to business, it may lead to unnecessary complications when developers switch between the projects or new members join. That's why we see it as a threat to development efficiency and try to avoid that kind of scenario. To ensure your organization will benefit as most as possible from migrating to cloud, think about it more strategically and try to involve all of the departments right from the start line.
Are you ready to move to cloud?
It's now, it's happening on our eyes. Cloud revolution is already here! What's more, it's becoming a standard in the Age of Digital Acceleration. Speed of delivery is now more important than ever. Don't lose to your competitors, because your infrastructure is old.   
Just let us know what is the business challenge you are up to. We will take care of the rest!
EMRScloud.com
OpenMRS is an open-source Electronic Medical Records system, built by people for people. Its mission is to help communities around the world to give and receive high-quality, effective, integral medical care. To make it easily available, we moved it to cloud. This way you can access it from anywhere. Internet connection is the only thing needed. 
Bloxmis
Inventory Management System developed by supply chain professionals working in resource-scarce settings. Functionality includes inventory tracking, lot and expiry tracking, stock movement and shipment tracking, purchase orders, stock requisitions and fulfillment, as well as built-in and customizable reports. As open-source software, OpenBoxes code is available to use and modify at no charge under the terms of the Eclipse Public License and can be configured and customized for interested parties to meet their specific needs.